A high yield savings account for members 18 and under.
Age to get started: 7+
A savings account is a great way to engage your child early on about savings, interest income, and how to interact with money digitally.  A great time to open up a Boost Savings account might be when you are starting to consider an allowance or perhaps after they have started to fill up their piggy bank and need a safe place to store their money.
Boost Savings:  This savings account offers a 3% dividend rate up to a $2500 balance.  Balances above $2500 will earn our standard share rate.  The relatively high savings account rate should allow for real conversations about the power of saving and compound interest.
PCU Boost Savings program:
We fund your child's first savings account with the $5 member share cost.
At opening we'll give your child a PCU RTIC water bottle.
We created an educational workbook on our website. If your child completes the workbook and brings it to a branch, we'll add an additional $25 to their account.
If your child (age 7-12) makes at least one deposit during the month, they will be entered into our monthly raffle, which includes various fun prizes.
Additionally each year, we award an $250 grand prize winner to our PCU Boost Saver of the year. This is awarded at our annual meeting.  Anyone with a Boost Savings account as of 12/31 that qualified for a monthly raffle during the year will be entered to win.
How to Engage with your Child?  When your child is under 11 or 12 years old it is likely too early for them to have their own login for their account, however a parent will be able to see the joint child account when you log into our Digital App.
When your child makes a deposit use this time to show them what the balance and activity looks like "digitally".  Its good exposure so they start to understand how many of us now interact with our money.
At the end of the month when dividends are posted, show them what that looks like in the digital app.  This is an opportunity to start talking about the concept that a credit union, like PCU, will pay them to hold their funds.  A lot of detail and complication is not necessary but, earning money, for letting your money sit in a spot is a cool concept. A simple chart like the one below can illustrate what happens to $100, just sitting there earning 3% over 5 years.  Imagine if they keep adding to it!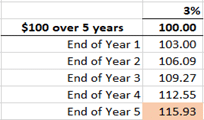 If your child wants to use their funds for a purchase or make a deposit.  Show them ways that you can do that. Bring them in branch, go through the drive through, or if they got a check from Grandma, make a remote deposit to your account and then show them the process of transferring money from your account to theirs.  You can also just give your child the cash they need for their purchase, and show them the process of transferring money from their account into yours, so they understand they are paying you for that cash.
If your child is old enough to consider an allowance, you might consider setting up an automatic transfer into their account each week, and have a regular time you check in with them to show them what that looks like in their account.  You might even begin to talk to them about how much savings they'll have after a specific period of time (assuming they keep doing their chores!).